Pixel Palette
So I had the idea that if I created a pixel art palette, any art that I make in the future will be inter-compatible - so when I make bunch of robots for a dystopian future thriller game, they'll fit right in lurking in a cave re-purposed by a bunch of orcs.
Or something like that anyway - it's a nice way to fill an afternoon and I think I have something I like.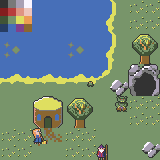 16 is the traditional number of colours so I went with that. There are still a couple of colours I'm not completely sure about, but I'll only really know for sure once I start making things with it.